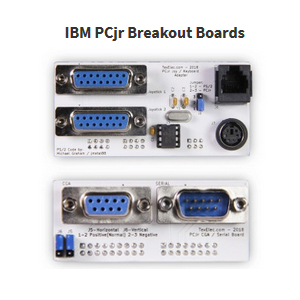 You may have already noticed that we added two new products to our store last night.  We are so excited to break into the IBM PCjr world with our breakout boards!  We recently found an IBM PCjr and loved playing with it so we just couldn't help ourselves.  We were mostly inspired when we started looking for a keyboard and monitor for the PCjr as ours did not come with either of these.  Both of these items are a bit hard to come by and we needed both!  The keyboard we did find was not tested and had issues when we it arrived.  Not to mention the reliability of the wireless/infrared design to begin with, we all know how reliable that was back in the day!
First we have the IBM PCjr Joystick and Keyboard Breakout Board which allows you to connect either a PS/2 keyboard or an IBM PCjr keyboard via a standard RJ-12 phone cable.  It also has two joystick ports to allow you to use standard PC analog joysticks.  There is much more detail on the product description about how it all works so be sure to check it out.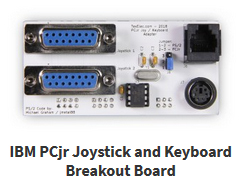 Second we have the IBM PCjr CGA and Serial Breakout Board.  This card will allow you to connect a standard CGA monitor and a standard serial device. Again, there is more detail in the product description so check it out if you're interested.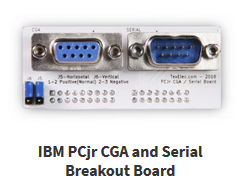 Don't miss our YouTube video all about both of these PCjr cards along with a teaser about a future board at the end! 😉

We are also happy to now be offering shipping to South America!  Honestly, we have had some bad experiences shipping to some parts of South America but had totally dismissed Brazil!
We have shipped there via eBay on numerous occasions and should have been offering this all along.  We finally had someone bring this to our attention and so here we are, shipping to South America via our store.  If you are in South America please feel free to order here via our website.  If you have an issue, just let us know so we can work it out.  We now have a new customer with a video using our Resound card because he contacted us.  So if you speak Portuguese you may find this video very helpful:
Speaking of the Resound, we will be restocking more of those very soon!  Hopefully you saw our last video asking for some feedback about the playback on some games.  We heard about some games having an issue with the gain so we were entertaining the notion of installing a gain knob.  After posting a video for feedback and installing a gain knob we don't really see too much benefit in that.  It simply just didn't make that much difference according to our followers and our tests. So our plan is to reduce the gain to avoid it peaking.  This way you may just need to raise the volume on some games, and that's it.  No pesky gain knob on the back of the machine to deal with.  We should have those back in stock within the next few weeks.
We have also had some requests for other Lo-tech boards we don't currently offer.  We were finally able to reach James and hopefully we will have the following boards in stock very soon, we are just waiting on some files; Tandy 1400 XT-CF PCB, 8-bit IDE Adapter PCB and the XT-CF-lite rev.2 PCB.
There may be an Adlib OPL2 clone in our very near future.  Kevin could be in there ordering parts right now and I probably shouldn't be saying this. 😉