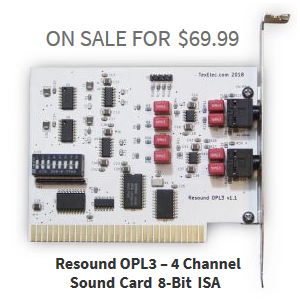 We are celebrating an exciting day with a SALE on our Resound card! When we saw Clint from LGR (Lazy Game Reviews) had posted a review using our Resound OPL3 Sound Card we couldn't believe it and were delighted with what he had to say!  You can see the review here:
After posting the review Clint received an undated test build of a sweet DOS game called Chuck Jones: Space Cop of the Future!

Here's the game in action, Chuck Jones: Space Cop of the Future by @jakedelmastro pic.twitter.com/HYkKA06lYK

— Lazy Game Reviews (@lazygamereviews) February 26, 2018
Kevin (Resound creator, owner and my husband) has been a fan of classic adventure style games like Kings Quest, Space Quest, The Secret of Monkey Island and the like since he was a kid.  So needless to say when we saw Clint's tweet about Chuck Jones: Space Cop of the Future by Jake S. Del Mastro we were super stoked!
Take some time and check out is development blog to see more of this fabulous game as it grows to completion!  He has a lot of great details and we are very excited to see it finished!