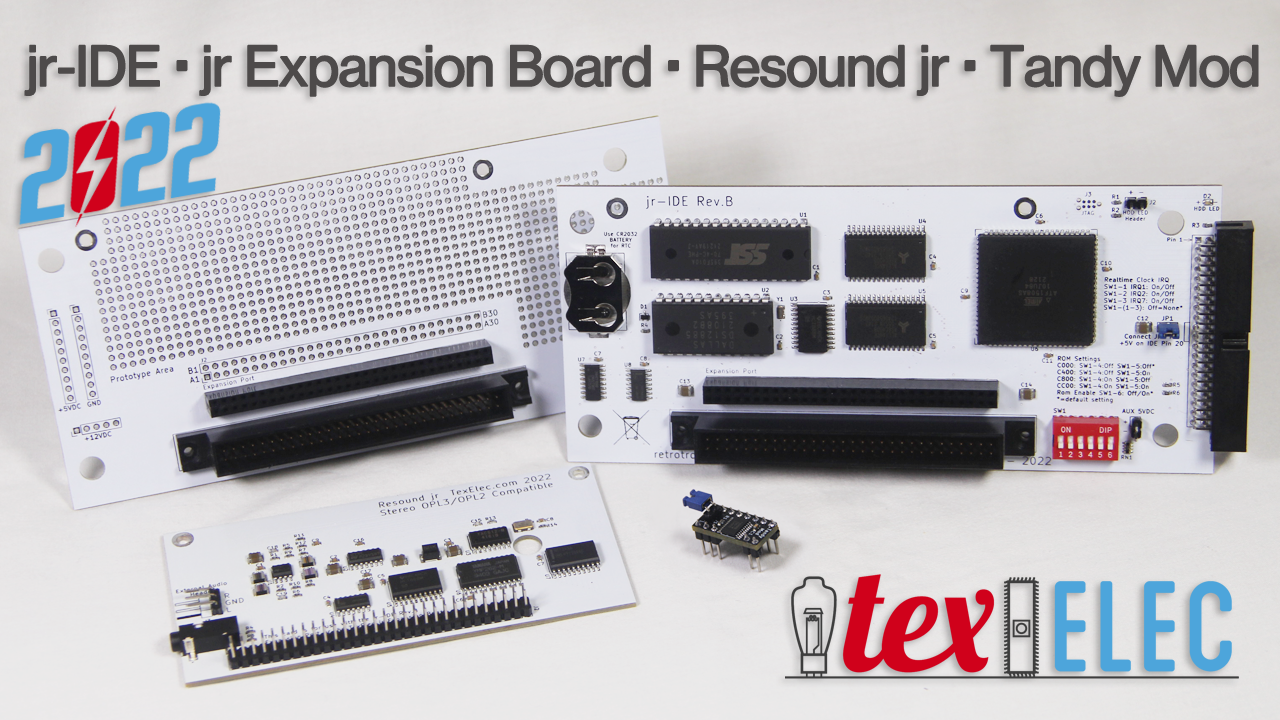 Hello PCjr fans!

The original Jr IDE Rev A went out of stock on the TexElec website about three months ago, when one of the CPLDs went out of stock. At the time, all of the suppliers said it would be May of 2023 before they were back! We decided to make a few updates and we are now happy to introduce the Jr IDE Rev B.

Functionally, the two cards are identical with a few minor changes. The POST display was removed, and we added a battery for the real-time clock. The IDE pinout was inverted, which allows a standard IDC right-angle box header to be used. We put a capacitor near the IDE power pin to help with CF card stability. But one of the most important additions is the new expansion header. The expansion header will allow for lower cost cards to be added on without another sidecar connector or enclosure.

This leads me to our second product announcement, the Resound jr OPL3 / Adlib clone! We ported our popular Resound 2 OPL3 card to the PCjr. We couldn't add an expansion port without making a card for it! It has a built-in line-level 3.5mm / 1/8″ headphone jack built-in and a 3-pin header if you want to add your own port on the back of the sidecar.

I know, I know, you already bought a Rev A Jr IDE, but how are you supposed to add a Resound jr to your system? Not to worry, the third product we're releasing is the TexElec jr Expansion / Prototype Board. This board has the same physical dimensions and expansion port as the Jr IDE Rev B. It also comes with a sidecar connector preinstalled! It can be installed in a sidecar just like the Jr IDE, and also has a prototype area for DIY projects!

Lastly, we are releasing the TandyMod for the PCjr. This board has been around for some-time now and will change the PCjr video memory map to match that of the Tandy 1000. This allows many Tandy 1000 specific games to run on the PCjr. With the release of the Resound jr, we thought it would be important to increase game compatibility as much as possible.

We made a video to release at the same time as the product launch. The video discusses the cards in more detail and shows a demo of them in action! It also shows how to install the TandyMod in your PCjr.
You can check it out here: https://youtu.be/az39Hpfn6KY
Whew, it took us a while to get here, but they are all for sale in the store today. Thanks for everyone's patience, and continued support of our store. We couldn't do it without our great customers, and we hope to keep making vintage PC parts for many years to come!
Thanks!
Kevin & Sara