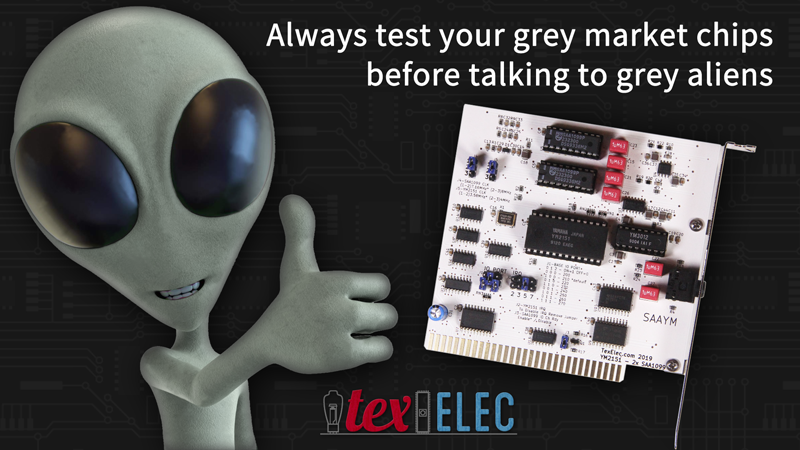 The overwhelming majority of our parts come from Mouser Electronics. They have a great online ordering process and the shipping times are great. They are also located relatively close to us so if needed we can run up and get some parts. This being said there are times when we just can't find the parts we need there. We build cards for vintage machines so sometimes parts like chips and even connectors are discontinued or on their way out and the prices are just too high to even consider purchasing in bulk. In these cases, we will check Octopart for vendors who may have stock of these discontinued parts. On a side note, if you ever decide to start seriously getting quotes from these vendors dealing in obsolete parts, be prepared for an influx of phone calls from several vendors with suspiciously similar prices and sometimes added fees once the price has been agreed upon.
When these part gathering efforts are fruitless, we turn to eBay. This is a risk as there are many grey market chips on eBay so a lot of research and testing is involved. To explain it in more depth we have made a video about our experience with grey market chips as it is a lengthy and detailed discussion. That being said, we go through a rigorous process to ensure each card we build is fully functioning. This is the same for all of our products, not just the few that use hard to find parts. Not only do Kevin and I test parts when we get them in, but we also test every single card we build before it hits the door to you!
I would also like to take this time to acknowledge the conversation surrounding grey market chips in the vintage/retro community. As you may have already seen, Clint aka LGR released a video on his LGR Blerbs channel a few days ago discussing "fake" chips. He was intrigued by this subject matter after seeing a video made by David of Plogue. If you watch that video you will see Clint talking about cards made by companies like us and our SAAYM card was shown specifically. Needless to say, we felt it was very important to respond with our point of view. Therefore, Kevin and I have spent a few days preparing a video to go into more detail about grey market chips and our personal experience. The video also touches on our involvement with the Commander X16 as well as the birth of the SAAYM card. Please take some time to watch our video. After we were named specifically by Clint, we felt we needed to make certain that our current and future customers know that we are running our business in a transparent manner, with only good intentions.
Thank you for your time and kind regards!